By default SQLBackupAndFTP stores backups in file names like DatabaseNameYYYYMMDDHHMM.zip (eg Pubs201801011120.zip). But you can also use custom file names if you have such needs
Why use custom formats?
If you want to use it to overwrite the old files – you shouldn't. There's an auto-delete section in destination settings that allows you to set auto-delete for old files after a specified number of months/days.
If you store files in Dropbox or other cloud storage that supports versioning, you may choose no date format so that the new file overwrites the old, but Dropbox takes care of storing all the versions of the file.
If you use a script to restore a database on another server, then you may want to use no date file naming. Note however that very soon we will be releasing "Restore job" functionality that allows to set up replication without custom file names.
How to set a custom format?
In SQLBackupAndFTP go to Compression Settings (In Compression section click Settings gear icon) and select one of the formats from the list: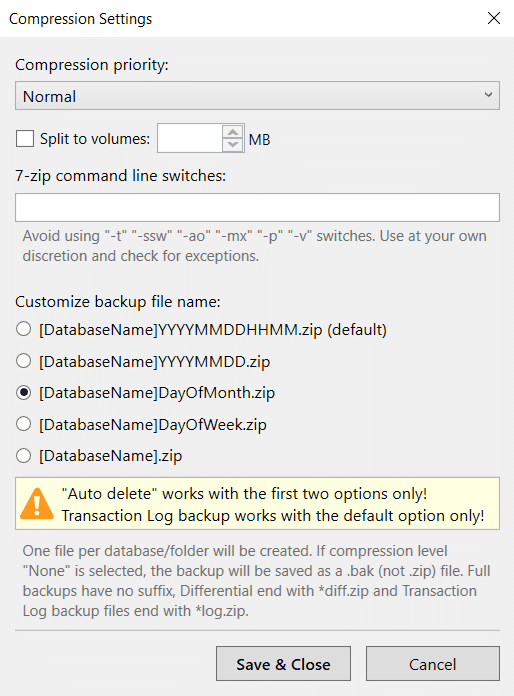 Note that Full backups have no suffix, Differential end with *diff.zip and Transaction Log backup files end with *log.zip
Limitations
By using custom backup file names you are breaking a few things, so before you do that, make sure you are very clear of the trade-offs.
Auto-delete won't work with the "no date" format because it needs a date in the file name to understand when it is time to delete it. It will still work if you have YYYYMMDD format
Tran log backups should not be used with any custom format because they'd overwrite each other.
overwrite the full backup file made on the same day and would make the restore impossible. Only basic full backups should be used.
The automated restore (the one done through our interface) would work only in basic full backup restore scenarios.
Basically, you have to know what you are doing if you are using custom formats.