If you have a database in the OFFLINE state and these databases are scheduled to be backed up, their backup will fail and the whole backup job will be shown as Failed. Same when you use Database Mirroring, you may have databases in Restoring state and they can't be backed up either.  If you have such databases included in your backup job, you may want to skip them if they are in an Offline or Restore state and show the whole job as Success, not Failure.
While we do not have the interface to exclude databases in a certain state from the backup job, it is easy to do it by editing the .jobx file directly. Just open a .jobx file with a notepad and add the strings like below to show a Warning instead of the Failure (default) for any of the databases in the OFFLINE state:
<DbStatusActions>
<Item Status="OFFLINE" Action="Warning" />
</DbStatusActions>
Your .jobx file will look like this: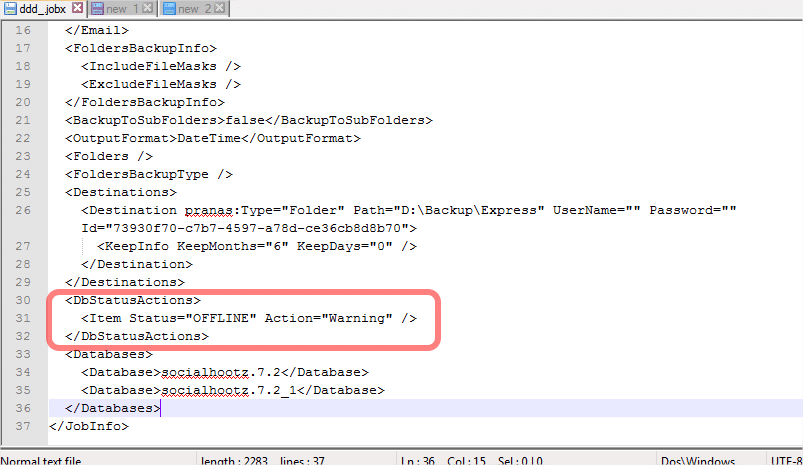 In this example, SQLBackupAndFTP will skip a backup of this database with a Warning message.
The supported statuses are OFFLINE, RESTORING, RECOVERING, RECOVERY PENDING, SUSPECT, EMERGENCY.
The supported actions are Warning, Backup, Error.
Please note, this feature works in SQLBackupAndFTP starting with version 10.0.31.