Attention! The web log is currently under development with ETA in Sep 2017.
SqlBackupAndFTP is a desktop application that is installed on SQL server computers. If you open the app on the computer where it is installed, you can see the history of database backups.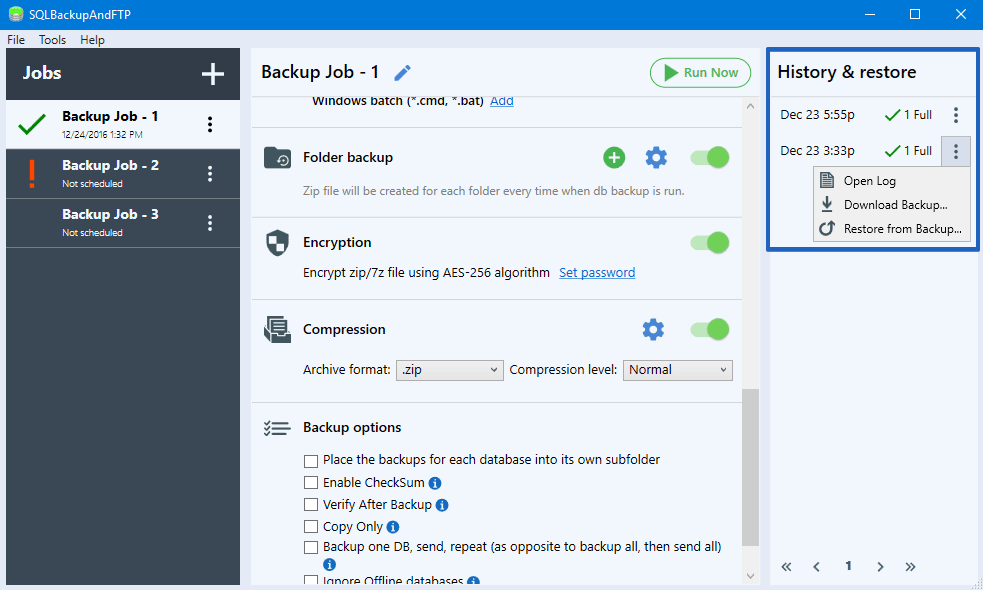 However, if you need to check the backup history remotely – it is easier to see it on the web – we call this feature web log. Moreover, if you have multiple installation, instead of checking each computer separately, it is much simpler to see backup history for every computer on a single web log page on SqlBackupAndFTP.com.
How to make web log work?
You need an active Updates, Web Log & Support subscription with Standard, Professional or Lifetime edition.
In SqlBackupAndFTP application v11 or later the option "

Send log to see backup history on the web

" should be checked (default ON)
Go to sqlbackupandftp.com/weblog to see your backup history
Can I edit my backup jobs from the web?
Not in SqlBackupAndFTP. Web log gives you a read-only log of your backups.
To edit SQL backup jobs from the web you can use our web-based backup service SqlBak (this is independent from SQLBackupAndFTP). Not only it allows you to see the backup history, but also configure all of the jobs on the web and monitor SQL server performance.
[Total: 3 Average: 3.7/5]