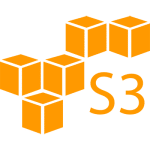 One of the most popular places for storing SQL Server database backups is Amazon S3. But nowadays there are a lot of ways how to make SQL Server backup and many methods how to send them to Amazon S3. But how much time do you usually spend to do it? With the help of SQLBackupAndFTP, you can backup SQL Server to Amazon S3 in few minutes.
How to Backup SQL Server to Amazon S3
Follow these simple steps and create your SQL Server database backup job which will make backups according to your schedule and store them to Amazon S3.
After you have downloaded and installed SQLBackupAndFTP launch it and connect to your SQL Server. Now you can select all databases you need to backup. To do it click the gear button at the "Select Databases" section.
To add destination where your backups will be stored press "Add backup destination" link and choose Amazon S3. Specify "Access key", " Secret Key" and "Bucket", then press "Test" to check the connection to your Amazon S3 account. To apply all settings click "Save & Close". 
To set up SQL Server database backup schedule turn on "Schedule backups" and click the gear button to tune the backup schedule. 
Now everything is ready to start your backup job. If you need run a backup immediately click "Run Now".
[Total: 7 Average: 3.4/5]